April 2024: Friends of the Library Free Concert Series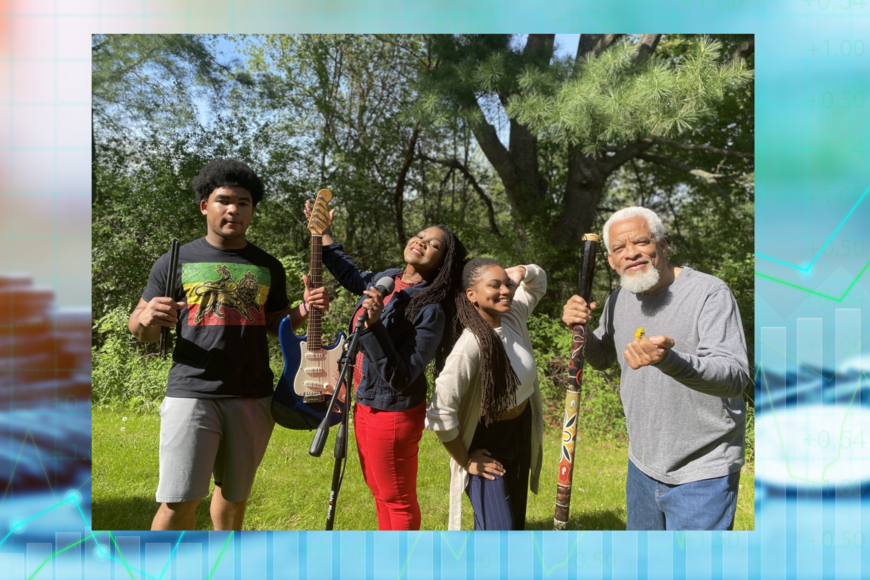 Caribbean Rain is Vermont's only multi-generational Jamaican family band, formed in 2017 by Jamaican Reggae artist Judi Emanuel and her family in Shelburne, Vermont. Led by Judi Emanuel, award-winning singer/songwriter, keynote speaker, and children's author, their unique sound blends Jamaican folk, popular, and original music, creating an eclectic and exciting experience for their audience. Their music features acoustic instruments and tight family harmonies
Born in Kingston, Jamaica, Judi's biggest musical influence is her father, Count Owen, a pioneer of Jamaican popular music. Mento and folk are among her favorite genres, but as a major cabaret artist, she performs covers from Reggae to Classical. As a recording artist, Judi has worked with renowned producers and released multiple independent singles. She has also released the Reggae EP, 'It's Your Life', and upcoming releases include the gospel album Limitless, Christmas single, 'This Christmas', and the catchy dance number, 'Ooh My Baby'.
Caribbean Rain is known for its message of love and togetherness, promoting a culture of freedom, inclusion, and worthiness for all.
Caribbean Rain's music and storytelling offer a socially inclusive and positive experience that brings the vibrant energy of Jamaica to Vermont and beyond. The family uses their music to address issues of race and gender bias, inequality, and promote diversity, making them a powerful force for change.
Concerts will be held in the Auditorium.
Doors open at 11:45am.
No tickets or registration needed. This concert is free and open to all.