Board of Trustees
The South Burlington Public Library has a Board of Trustees whose members serve renewable terms of three years. The Board is empowered by law with the full and exclusive power to manage and control the property and affairs of the Library. The Board has appointed, and works closely with, the Library Director. In addition, Trustees participate in a number of standing and special purpose committees of the Board. All meetings of the Board of Trustees and its committees are open to the public.
Get Involved
We love to hear from community members interested in serving the Library. For more information, please contact the Chair of the Board of Trustees by clicking here.
South Burlington Public Library Board of Trustees (as of July 1, 2019)
Trustee /Current Term Expires
Patrick Leduc (Chair) - 2020
Stacey Pape (Vice Chair) - 2022
Lee Freeman (Secretary) - 2022
Penne Tompkins - 2021
Diane Bugbee (Treasurer) (Chair, Finance Committee) - 2021
Mark Coel - 2020
MargaretAnn Cross - 2021
Bonnie Finnigan (Chair, Advocacy Committee) - 2020
Nancy Fawley - 2021
Jay Pasackow - 2022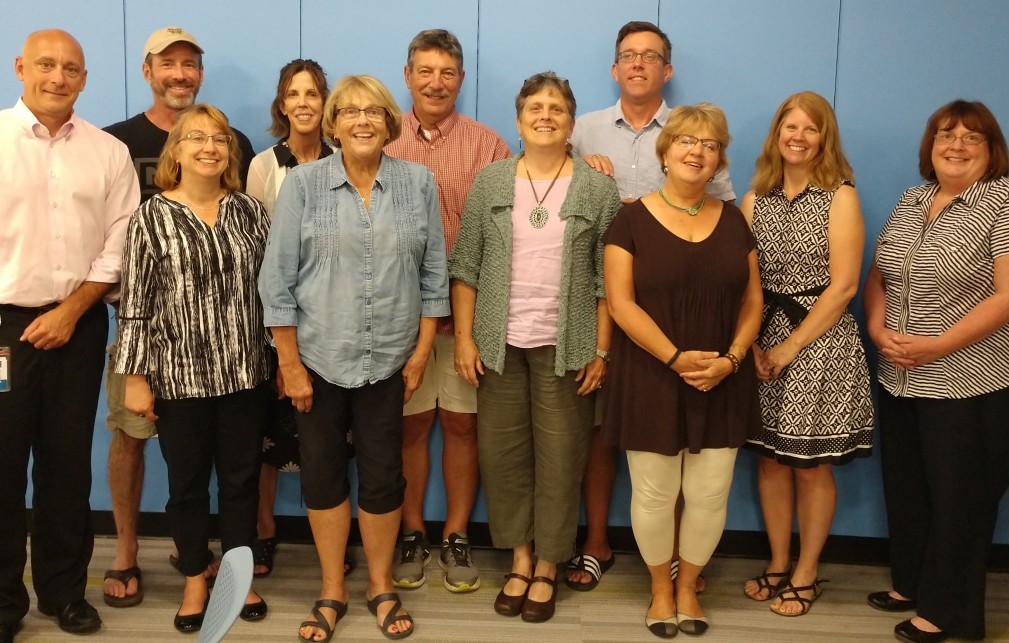 Pictured from left:
Front: Patrick Leduc, Stacey Pape, Bonnie Finnigan, Library Director Jennifer Murray, Penne Tompkins, MargaretAnn Cross, Diane Bugbee
Back: Mark Coel, Nancy Fawley, Jay Pasackow, Lee Freeman
Monthly meetings are held at the Library on the second Thursday of each month at 5:00 pm. Prior to attending a meeting please verify time and location on the web site calendar. All Board and Committee meetings comply with Open Meeting Laws and are open to the public.
Miscellaneous Reports: