Friends of the Library

Since 1984, the Friends of the South Burlington Public Library have been at work behind the scenes, actively supporting the staff, programs, events, and mission of the Library. A small annual membership donation ($10 or more), when added together with others, makes a big difference in what the Friends can do for the Library.

We invite you to join us! Online or by mail (see below).
As a Friend, you are invited to attend the special Friends' social events where you will meet other Library enthusiasts. In addition, volunteers are always welcome and needed to help with the Friends' planning, hospitality, and fund-raising projects (see below). It's fun to work with others who value the Library as a community and education center.
For 2020, the Library is counting on the Friends to help fund the following:
The Winter Concert Series, scheduled for select afternoons
Book Page, a monthly book magazine available to all library patrons
OverDrive and Libby eBook subscriptions
Supplies for the Summer Reading Program (keep those kids reading!)
Development and appreciation for library staff, trustees, and volunteers
Hospitality for library programs throughout the year
The Friends are also looking ahead to the opening of the new Library in 2021 and are raising money to help enhance the collections, technology, and spaces.
How to become a member
You may also pick up/drop-off a form at the Library or Wheeler House, 1100 Dorset Street
Please email with any questions.
The Friends of the South Burlington Public Library is a 501 (c) (3) non-profit organization and membership contributions are fully deductible as allowed by law.
UPCOMING MEETINGS & EVENTS
Meetings
Meetings are open to the public and are usually held on the fourth Thursday of each month at 9 a.m. at Wheeler House, 1100 Dorset Street.
January 23, 2020
February 27, 2020
March 26, 2020
Events
January 18, 2020 - Winter Concert
February 29, 2020 - Winter Concert
March 14, 2020 Winter Concert
April 24 & 25, 2020 - Spring Book Sale
Spring Member Event - date tbd
June Annual Meeting - date tbd
FRIENDS' LEADERSHIP & CONTACT INFO
Officers 7/1/19-6/30/20:
President, Katherine McConnell
Vice President, Sue Raatikainen
Secretary, Barbara Harrison
Treasurer, Frances Williams
The Friends of the South Burlington Public Library support the mission, programs, events, and staff of the South Burlington Public Library through fundraising, volunteerism, and advocacy.

Our mailing address is Suite 245, 150 Dorset St, PMB 235, South Burlington, VT 05403
Questions? Email fotsbpl@gmail.com
AMAZON SMILE
If you make online purchases through Amazon, consider using Amazon Smile. Amazon will donate 0.5% of purchases to the Friends when you set it up. All purchases must be made through the Amazon Smile portal.
1. Go to https://smile.amazon.com/ch/03-0272790
2. Login using your existing Amazon account or register as a new user.
3. The Friends should come up automatically, but if not, search for and select Friends of the S Burlington Comm Libr S Burlington High School (we have submitted the paperwork to officially update our name, but it is not yet finalized).
HOW YOU CAN GET INVOLVED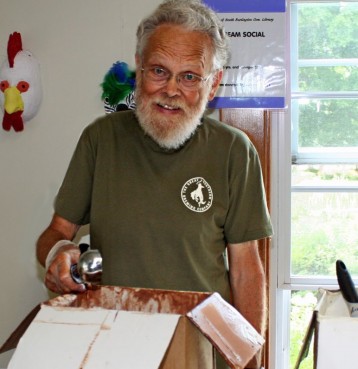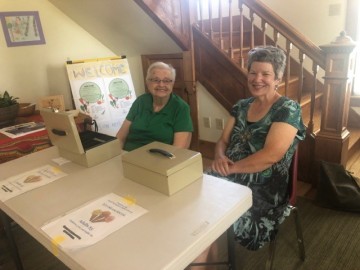 BOOKSHOP
We have 2-hour shifts available at our lovely shop, A Novel Idea, Wheeler House,1100 Dorset Street
10 am – 12 noon or 12 noon – 2 pm
Fridays and Saturdays
You can take 1 shift per month, 1 shift per week – whatever works for you
Tasks include:
Open or close the shop
Manage small cash transactions
Sort and shelve books
Assist customers with book questions and sales
Enjoy the lovely view of the gardens and mountains
If you would like to learn more about volunteering, please email us.
If you are current bookshop volunteer, please click here for our Novel Idea Volunteer Signup Sheet
COMMITTEES
Like organizing things? Then please consider joining our Book Shop & Sale Committee.
Like to get to know our members? Then please consider joining our Membership Committee.
Like planning events and activities for your family and friends? Then please consider joining our Programs and Events Committee.
Like hosting people and making sure delectable treats are available to sample? Then please consider joining our Hospitality Committee.
Not up for a committee? We can always use help with 1-time tasks.
Please email us for additional information.
A NOVEL IDEA: USED BOOKSHOP

A Novel Idea
Wheeler House
1100 Dorset Street, South Burlington

Come to our bookshop and support the Library!
We have recent books in great condition, sorted by author last name (adult fiction) and genre (adult non-fiction). We also have recent books in great condition available for sale at the Library - ask to be directed to the Friends Kiosk.
Open November - March
ONLY Fridays & Saturday
10 am -2 pm
Open April - October
Thursday, Friday, and Saturday
10 am -2 pm
Closed on holidays and if inclement weather.
Book donations:
To raise as much money for the Library as we possibly can, we need to sell lots of books! In order to sell lots of books, we can only accept books that are:
In Great Condition
Published within the past few years
Specifically: adult fiction and non-fiction (hardcover and paperback), youth books, cookbooks, gardening books, and DVDs.

The Friends receive all book donations for the Library - please bring books that fit the guidelines to:
A Novel Idea, Wheeler House, 1100 Dorset Street
Friday and Saturday 10 am - 2 pm ONLY.


We are unable to accept the following items:
Books in poor condition
Academic books
Books in a foreign language
Obscure books
Large-format books
Large print books
Religious books
Reference books
VHS Tapes
Cassette Tapes
Magazines

Please bring books outside of our guidelines to Goodwill, ReSource, ReStore, RePlays, Hannaford, or a local recycling center.