Friends of the Library

About the Friends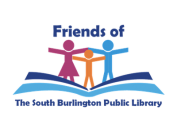 The Friends of the South Burlington Public Library support the mission, programs, events, and staff of the South Burlington Public Library through fundraising, volunteerism, and advocacy.
Since 1984, the Friends of the South Burlington Public Library have been active in revitalizing Library programs, Library materials and the Library space through their membership contributions, volunteer work, and fundraising projects. The Friends are concerned citizens who believe a dynamic Library is the cornerstone to an educated, caring, and stimulating community environment.
Many of the Library programs and services are only possible through the continued generosity of Friends.
In recent years, the Friends directly funded:
Winter Concert Series, held on select Sunday afternoons
Two Book Series for Book Clubs and Library circulation
Jiggity Jog, a monthly music program for children
Book Page, a monthly book magazine available to all Library patrons
Extra Overdrive e-Books for South Burlington residents
Honorariums for the Tea at Two event & Brown Bag Lunch Series
Prizes & supplies for the Youth & Adult Summer Reading Programs
Help with Library Board of Trustees Training + Staff Retreat
Refreshments for Library programs throughout the year
Holiday Plants & other Library space enhancements
Additionally, the vibrancy of our community is enhanced by the Friends' events such as the Spring Member Event, the Spring and Fall Used Book Sales, the Summer Ice Cream Social, and the Fall Cookie Walk.
Membership in the Friends of the Library enables you to help your Library thrive, demonstrate your enthusiasm for books and learning, meet other Library enthusiasts who share common interests, and attend the special Friends social events. We invite you to join us!
The Friends of the South Burlington Public Library is a 501 (c)(3) non-profit organization and membership contributions are fully deductible as allowed by law.
Please email fotsbpl@gmail.com with any questions.
Current Officers through 6/30/19:
President: Marjorie VonOhlsen
Vice President: Katherine McConnell
Secretary: Barbara Harrison
Treasurer: Adam Bortz
Mailing Address:
Suite 245
150 Dorset St, PMB 235
South Burlington, VT 05403
For more information on the activities of the Friends, please email us at fotsbpl@gmail.com.
Upcoming Event:
July 27, 1:30 to 4 p.m. at Wheeler House - Ice Cream Social
Meetings:
Annual Meeting is Saturday, June 1st, 10 a.m. at Wheeler House ... all are welcome.
Meetings are open to the public and are usually held the fourth Thursday of each month at 9 a.m. at Wheeler House, 1100 Dorset Street.
Volunteer:
Like making phone calls? Would you like to get to know our members? Then please consider joining our Membership Committee.
Like planning events and activities for your family and friends? Then please consider joining our Programs and Events Committee.
Like hosting people and making sure delectable treats are available for them to sample? Then please consider joining our Hospitality Committee.
Please email us at fotsbpl@gmail.com for additional information.
Bookshop:
We have two hour shifts (10 am to 12 noon, or 12 noon to 2 pm) available at A Novel Idea,Thursday, Friday and Saturday. You can take one shift per month, one shift per week - whatever works for you. Please email us at fotsbpl@gmail.com for additional information.
Book donations:
A Novel Idea
Wheeler House
1100 Dorset Street.
Thursday, Friday, and Saturday 10 am - 2 pm ONLY
To raise as much money for the Library as we possibly can, we need to sell lots of books!
In order to sell lots of books, we can only accept books that are
In Great Condition!
Published within the past few years
Specifically: adult fiction and non-fiction (hard cover and paperback), children's, cook books, gardening and books on CD
We cannot accept:
Books that are: in poor condition, academic, in a foreign language, obscure, large format, or religious

Outdated reference book sets

VHS Tapes

Cassette Tapes

Magazines

Please bring books outside of our guidelines to Goodwill, ReSource, ReStore, RePlays, Hannaford or a local recycle center.