January 2024: Friends of the Library Free Concert Series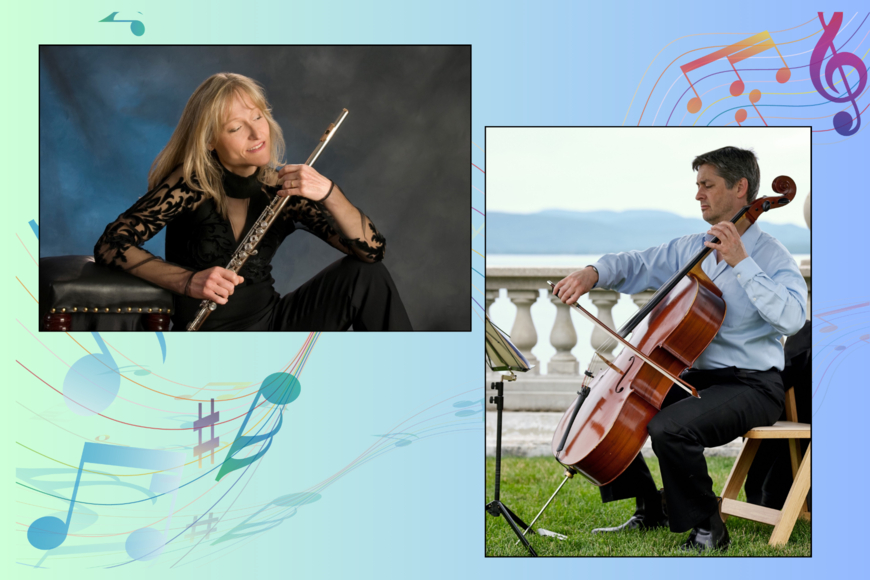 Vermont Symphony Orchestra members Melissa Mielens, the principal flutist for the Vermont Symphony and Vista Philharmonic, and John Dunlop, the principal cellist with the Vermont Symphony Orchestra, will present an enchanting selection of contemporary and classic pieces for the season opener of the Friends of the Library 2024 Winter Concert series.
This duo brings extraordinary musical talent to our Auditorium. In addition to the VSO, John plays with the Burlington Chamber Orchestra, Opera North, Opera Company of Middlebury, Hanover Handel Society and the Green Mountain Opera Festival. He has performed as soloist with both the VSO and BCO, premiering a new work written for him with the VSO in October of 2021. John has composed and recorded several award-wining film soundtracks and has played in master classes for Yo Yo Ma.
Melissa has been hailed in reviews for her "eloquence" and "ethereal flute lines," She has additionally played principal flute with many regional orchestras, including the Rhode Island Philharmonic, Pro Arte Chamber Orchestra, Portland Symphony, and Springfield Symphony. She has toured abroad with various orchestras and playing has been featured on numerous radio stations, with live performances on WGBH and WVPR.
Concerts will be held in the Auditorium.
Doors open at 11:45am.
No tickets or registration needed. This concert is free and open to all.