SoulCollage® What's Your Superpower?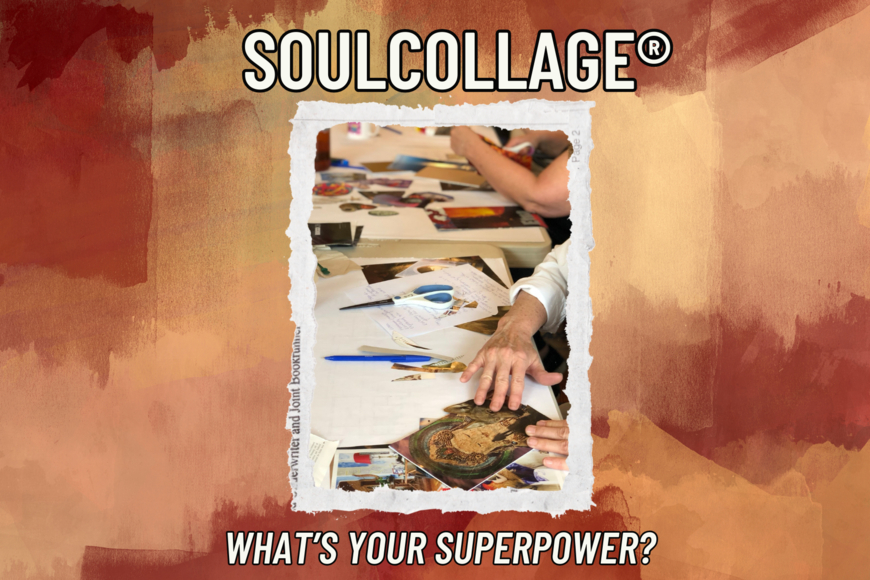 SoulCollage® is fun and easy to do! It is a powerful tool for personal growth and transformation which can help you to connect with your intuition and inner wisdom.
Join Topaz Weis, a Registered Expressive Arts Consultant/Educator, facilitator, artist, speaker, astrologer and mother in this session named "What kind of Superhero are YOU?" We will select images from magazines to create one or more 5 x 8 cards depicting your superpowers. Everyone has superpowers, but we aren't always aware of what they are. Collaging cards depicting images of your superpowers will help you discover important wisdom, truth and power which resides inside of you.
Topaz Weis is the founder of Expressive Arts Burlington where she works with individual clients and groups engaging their imaginations and exploring their creativity. Her work has helped individuals find a deeper meaning in life, rediscover their creative spark and integrate their inner and outer worlds.
No prior art experience necessary. All materials provided.
"Stir together the ingredients of your imagination and intuition with a few powerful, cut-out images, and you can create your first SoulCollage® card. After that you will probably want to make a second, a third, and, over time, many more. Gradually you can create your deck of very personal cards….they will help you explore your Soul, your shadow, and your inborn gifts." —Seena Frost, originator of SoulCollage®