Evening Book Group: Last Night at the Telegraph Club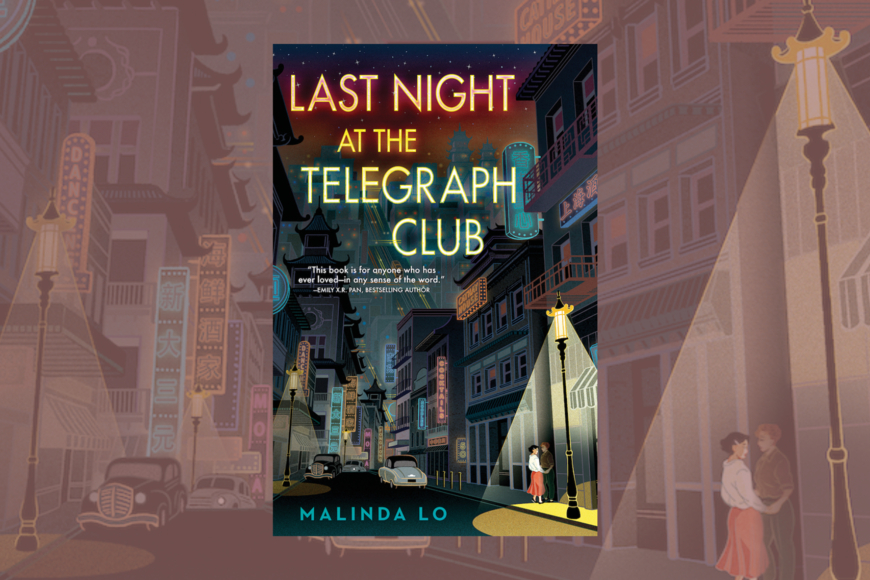 The SBPL Evening Book Group meets on the 4th Thursday of every month. Enjoy a stimulating conversation about books and exchange perspectives about characters and plot while getting to know your neighbors. Join us in January as we talk about Last Night at the Telegraph Club, by Malinda Lo. Teens ages 14+ are invited to join the Evening Book Group for our conversation about the book.
Last Night at the Telegraph Club is a story of love and duty set in San Francisco's Chinatown during the Red Scare.
"That book. It was about two women, and they fell in love with each other." And then Lily asked the question that had taken root in her, that was even now unfurling its leaves and demanding to be shown the sun: "Have you ever heard of such a thing?"
America in 1954 is not a safe place for two girls to fall in love, especially not in Chinatown.
Teenager Lily Hu is fully immersed in the life and culture of San Francisco's Chinatown, home to Chinese immigrant families like hers. But as she comes of age in the 1950s, her passion for rockets and space exploration is matched by her curiosity about the Telegraph Club, located in a neighboring part of the city her parents have asked her to avoid.
Lily and her new friend, Kathleen, begin to sneak out at night to the club, which hosts performances by Tommy Andrews, a woman who dresses and performs in a traditionally masculine style. Kath and Lily's interest in each other continues to grow despite the very real danger faced by two girls falling in love in 1954.
At the same time, McCarthy-era fears about Communism, coupled with ongoing anti-Asian hate, shake the stability of the Chinese community and threaten to engulf Lily's own father.
Last Night at the Telegraph Club is the book selection for Vermont Reads 2023. SBPL is grateful to Vermont Humanities for making this program possible. Thanks also to our partner organization: the Vermont Chinese School.
This book is available to borrow from the library. Book group reserve copies will be available one month ahead of the discussion. Discussion will be hybrid, with in-person and Zoom options.
Email sbplprograms@southburlingtonvt.gov or call 802-846-4140 if you have questions or would like to be added to the email list for this group.