March 2024: Friends of the Library Free Concert Series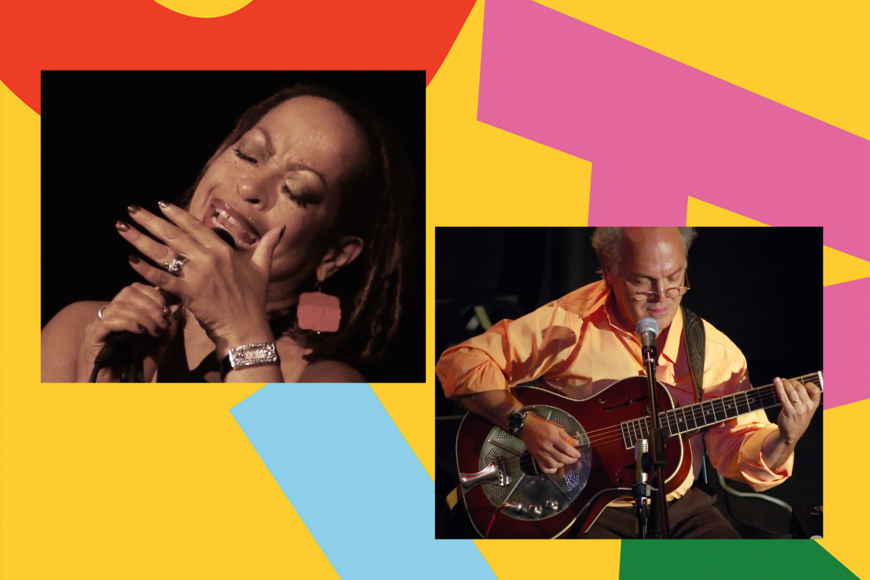 The Evans / Asbell Duo presents a program of jazz from the 1940s and 1950s. Their playlist for our hour will include tunes featured in this year's Vermont Reads title, Last Night at the Telegraph Club by Malinda Lo.
During her career as a performer and recording artist, Samirah Evans has become known for her dynamic and soulful approach to music, especially in the jazz and blues genres. Her musical style is heavily influenced by the New Orleans sound where she was one of the city's most popular and in-demand singers for nearly 20 years. Her 1990 debut at the New Orleans Jazz and Heritage Festival began a run of 15 consecutive appearances, and she was a fixture in clubs and concert venues throughout the Crescent City. Hurricane Katrina caused Samirah to relocate to her husband's hometown of Brattleboro, Vermont. She has since been performing in venues and festivals throughout the northeast with her band, Samirah Evans and Her Handsome Devils, and her classic New Orleans R&B choir, the NOLABratts.

The New Orleans Times Picayune named Evans' debut CD, Give Me a Moment, the fifth best new release of 2002. She has recorded two other full-length CDs as a leader, My Little Bodhisattva (2007) and Hot Club: Live at the Vermont Jazz Center (2009), in addition to several downloadable singles. She has also appeared as a featured or supporting vocalist on other artist's recordings in New Orleans and New England. Evans dedicates time to perpetuating American Jazz and blues music. and the "Sam's Sunday Set and Shed" musical mentoring program to spotlight artist-protege relationships in the region.
From his early years playing blues on Chicago's South Side, to his present multi-faceted career based out of northern Vermont, Paul Asbell's professional career spans 50 years. In Chicago, Paul Asbell played and recorded with Muddy Waters, John Lee Hooker, Bobby McFerrin, and many more. Paul moved to Vermont in the heady "back-to-the-land" days of 1971, where he still lives. In 1978, seeking an outlet for more personal musical visions, he formed Kilimanjaro, and recorded 2 award-winning albums for Philo Records. In 1981, Paul and other members of Kilimanjaro joined forces with a legendary saxophonist and blues singer to form Big Joe Burrell and the Unknown Blues Band.
Paul received Seven Days magazine's "Best Musician of 2004" Daysie Award, and the Daysie for "Best Instrumentalist" in 2019.
Paul has taught guitar for over 50 years in both private instruction and on a university level, including positions at Dartmouth College, St. Michaels College, and presently at Middlebury College and the University Of Vermont.
Concerts will be held in the Auditorium.
Doors open at 11:45am.
No tickets or registration needed. This concert is free and open to all.