Craftsbury Chamber Players: Kompass Quartet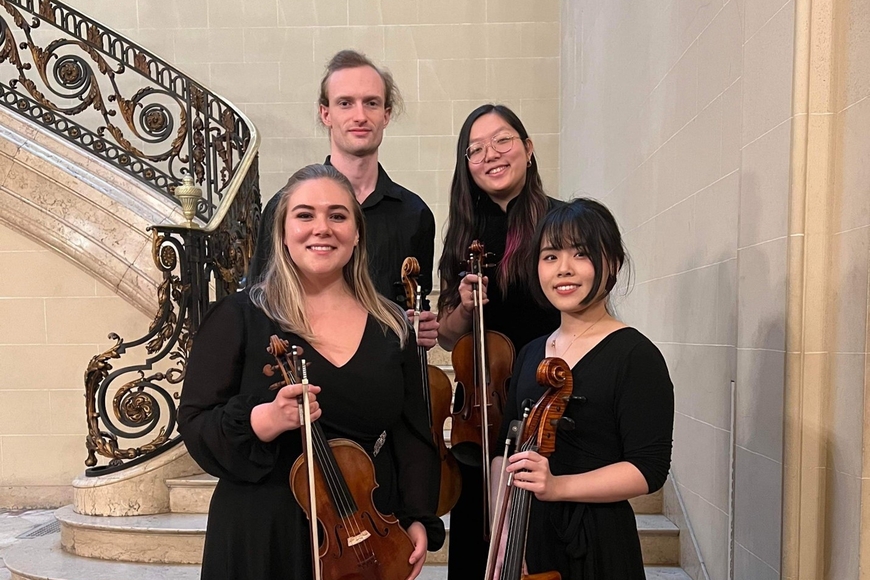 Join members of the Kompass Quartet to explore what makes the classical string quartet such a magical and enduring ensemble. The program includes music of multiple eras and styles from the quartet's beginnings to current trends. This interactive performance includes music of Beethoven, Haydn, Coleridge-Taylor, and more.
The performance will be held in the beautiful, air conditioned library auditorium. Light refreshments will be offered in the South Burlington Public Art Gallery after the performance.
The Kompass Quartet
Jessica Gehring is a violinist, violist and teacher based in the NYC city area. Originally from Nashville, TN, Jessica is trained in a variety of styles such as Classical, Bluegrass, Celtic and Jazz. She holds a BM in Violin Performance from Lawrence Conservatory where she studied with Dr. Samantha George, and an MM in Violin Performance at NYU Steinhardt in the studio of Giora Schmidt and the viola studio of Stephanie Baer. Jessica enjoys a diverse freelancing career, having played at venues such as The Schermerhorn Symphony Center, the Dimenna Center, Carnegie Hall, and the Apollo Theater alongside groups including the Nashville Symphony, the Chelsea Symphony, the Westchester Philharmonic, and the American Composers Orchestra. She is also a founding member of the Kompass Quartet, which has performed both classical and contemporary works at premier events throughout the city. Over her career, Jessica has performed in over 40 musical productions, and has appeared in many studio recording sessions for artists such as Lenny White, Charlie Morrow and Richard Einhorn.
Jade Schoolcraft is a Master of Music candidate at New York University, studying with Dr. Cyrus Beroukhim and Giora Schmidt. She is a member of the Compass and Clover Quartets, a piano trio, and has also performed with NYUO1 and the Broadway Orchestra. Jade began studying violin at the Brooklyn Conservatory of Music at the age of six. She studied under Masha Lankovsky and Adriatik Sefa. For her Bachelor of Music, Jade studied with Dr. David Fulmer and Dr. Reuben Blundell at Hunter College in New York City.
Matthew Ryan is a New York City-based violist and string teacher, performing and teaching a wide variety of chamber, orchestral, contemporary, and theatre music. Hailing from Brisbane, Australia, he holds degrees from the Queensland Conservatorium, the University of Queensland, and New York University, and has studied with Graeme Jennings, Patricia Pollett, and Karen Ritscher. Matthew has extensive experience in ensemble viola performance, having performed in multiple orchestral, opera, and Broadway Theatre productions at NYU. Outside of university, Matthew has worked with the American Composers Orchestra, the Richmond County Orchestra, and has recorded for Richard Einhorn. In Australia, Matthew has performed and toured domestically and internationally with the Queensland and Australian Youth Orchestras, has worked with the Xi'an Symphony Orchestra in China through collaboration with the University of Queensland, was a featured soloist with the Queensland Philharmonic Orchestra, and has worked with numerous ensembles across South East Queensland.
Victoria Lin is currently in her fourth year of undergraduate study in cello performance under the tutelage of Marion Feldman at New York University. She began studying the cello at age seven in Australia before moving to Houston during her high school years where she studied under Mark Yee. In addition to being a member of the Kompass quartet and is also active in the many different ensembles offered at NYU and has enjoyed working with many composers over the years. Victoria has also had the opportunity to perform with the American Composers Orchestra as well as the New York Pops on various occasions. In her free time, she enjoys rock climbing, ballroom dancing, and drawing