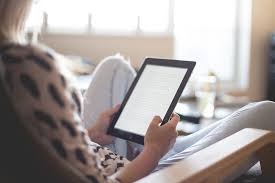 Don't have a tablet but would like to try reading ebooks? The Library has a Kindle Fire for check out. Call to reserve it and get help in loading titles from Overdrive. All you need is a library card and an Amazon account.
New users fill in a Borrower Agreements which will guide the process. Once an agreement is signed the Kindle can be checked out for three weeks. When the Kindle is returned staff will account for all the pieces of the Kindle Fire kit and check it in.

Staff recommend that patrons make appointments to check out the Kindle Fire to get some tech in help setting it up. The Kindle Fire goes out as a blank slate because it gets a factory reset every time. This protects everyone's privacy. Books are selected from the library OverDrive account which allows up to three 14-day checkouts at one time.

Please note that borrowers will have to create or already have an Amazon account to use. They can do this while setting up the Kindle Fire or before on a computer. They do not need to provide amazon with any credit card information but must know their password.
Next Blog Post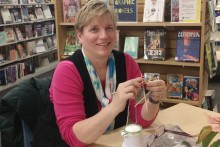 Leslie Griffiths is a library volunteer who coordinates our Wednesday night knitting group. Leslie recently was presented the Fredrick H. Tuttle Community Service Award by the South Burlington Rotary Club.…