Viral Reading Challenge
Viral Reading Challenge
The Library isn't open and it's hard to get to the bookstore and avoid spreading germs. What do you do when there is nothing to read?!? Take our Viral Reading Challenge and "get the reading bug!"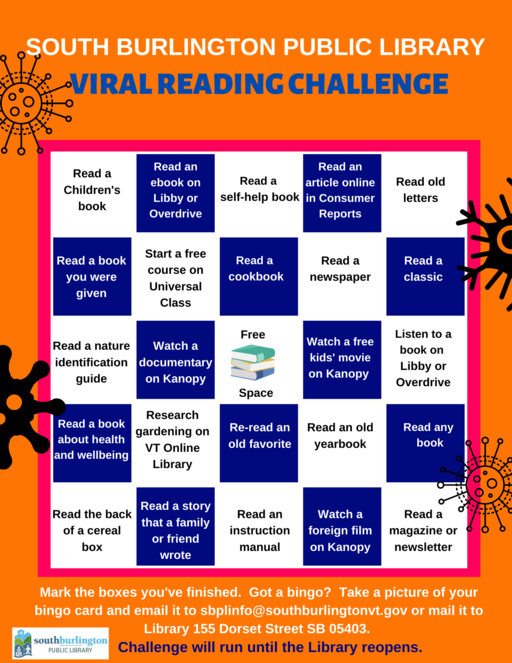 Look around you. Are you sure there is nothing to read? This bingo board challenges you to find something to read right where you are. We hope you will share your thoughts about what you find to read on our Library blog, Facebook or Instagram. Don't forget to use #sblibraryvt!
Library staff is also ready and willing to introduce you to ebooks and audiobooks, streaming videos, classes to take, and articles to read. Contact us for tutorials or visit our YouTube Channel for the latest tutorials.
Our hope is that between the hidden gems you have at home and the extensive virtual opportunities you can find through our website, you will have plenty to read!
What Can I Read?
Consider the following:
• Gift books that didn't appeal to you at the time - maybe they would be good after all.
• Instruction manuals – how long have you been waiting to set up that new electric toothbrush or clean that dishwasher? Check the manual drawer.
• Re-reads – reconnect to an old favorite.
• Kid's books – these are fun whether saved from your childhood, your children's, or found online.
• Cookbooks – yes, they are meant to be read! There may be stories about the chefs, about the culture and little vignettes with each recipe.
• Self-help books – surely you have a few of those…
• Health and well being – you don't have to exercise to read the book about it.
• Magazines – you might subscribe or get something free in the mail.
• Newsletters – from genealogy to investment, neighborhood to retirement.
• Food packaging – Remember when you ate your cereal while reading the box? Anything with a box can be interesting and might also lead you to their website for more reading.
• Classics – you've been waiting a long time to open that leather bound book that you "should" read. Now's the time to read it because you'd like to.
• Newspapers – You may get deliveries, or you may look for your favorite one online. Some are offering free reading right now.
• Letters – This one may be unfamiliar to many, but some readers saved letters from family or loved ones for moments like these.
• Never published novels – Have you or a family member ever written a short story, novel or essay that was never published? Revisit one of those.
How do I get a copy of the Bingo Board?
You can print your own copy here.
If you or someone you know, doesn't have access to a computer and/or a printer and needs a hard copy mailed to them, contact us with their name and mailing address and we will mail a Bingo Board.
How do I submit my completed Bingo Board?
Take a picture of your completed Viral Bingo Challenge and email it to us. Or mail your completed board back to us.
South Burlington Public Library 155 Dorset St. B1 South Burlington, VT 05403
The first 30 winners will be mailed a homemade Catch the Reading Bug face mask.