Seed Library Open For Curbside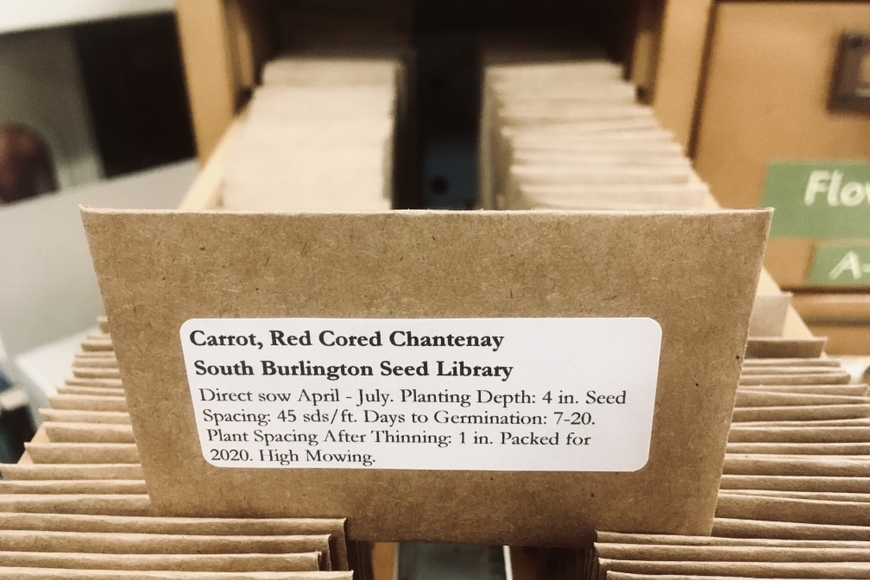 Vegetable, herb, and flower seeds from our Seed Library are now available for curbside pick-up. To request seed packets for your garden, look through our seed inventory here. After choosing no more than what you need, e-mail Yitzi, the new Seed Library "cultivator", at igittelsohn@southburlingtonvt.gov or call the library at (802) 846-4140. The best times to contact Yitzi are Wednesdays 2-4, Thursdays 11-3, and Fridays 11-3. Please specify the common name and variety of the plants you would like, and provide an e-mail and/or phone number at which we can contact you. Let us know if you would like to be on our e-mail list to learn about programs, volunteer opportunities, and more. We will let you know when your seeds are available for pick-up on the cart outside the library in the University Mall.
We will also be offering some gardening programs with local experts on subjects such as garden design, seed starting, and seed saving. Check the library events listings for upcoming notices about our first class, which will be offered virtually in March.
If you have questions, ideas for the Seed Library, or ways you want to be involved, please be in touch.
To make sure seeds from 2019 or 2020 are still viable, try this simple germination test at home.
To read more about gardening and seed saving, see this list of further resources that we own or recommend.
Together, we can build a network of local gardeners who are investing in hardy sustenance, healthy soil, and happy souls.