Make informed shopping decisions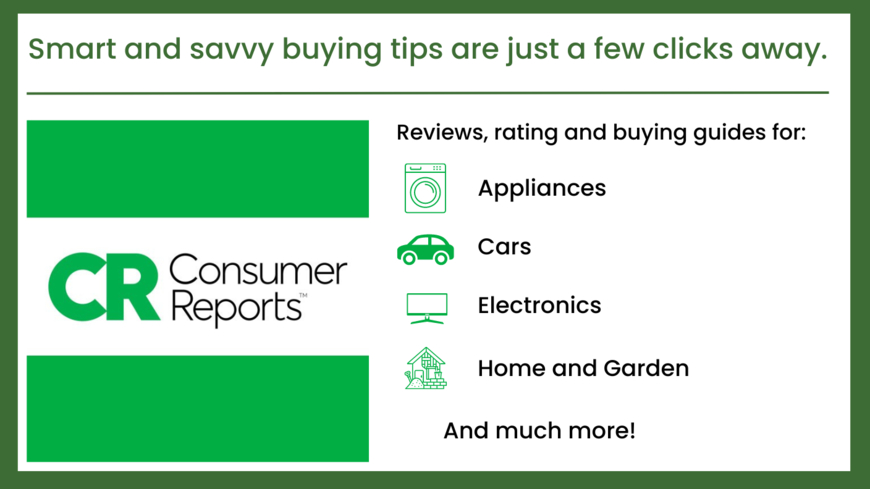 Did you the library know provides free access to Consumers Reports online and in print?
Consumers Reports will ensure you get the best deal or product. You can use it to find reliable ratings and reviews for thousands of products and help you make the most of your time and money. You can also access money-saving advice and tips, buying guides, videos and more. Consumer Reports is the world's largest nonprofit product-testing organization and has been helping subscribers find better, safer products for 80+ years. Consumer Reports accepts no outside advertising and no free test samples and employs shoppers and experts to buy and test the products reviewed.
Access:
Results from Consumer Reports' in-house testing laboratory
General buying guides, product ratings, reviews, and recommendations
Comparisons of products and services
Money-saving advice and tips
Consumer health information
To begin using Consumer Reports online,
Select Consumer Reports
Enter in the barcode number located on the back of your Library Card under Patron ID and select Sign In.
Select ConsumerReports.org
Prefer to read a print copy? You can read and borrow the magazine located on the first floor next to new books.
If you have any questions, please feel free to contact us at 802-846-4140 | sbplinfo@southburlingtonvt.gov
Next Blog Post

Non-traditional items on display for easy check out