Vets Town Hall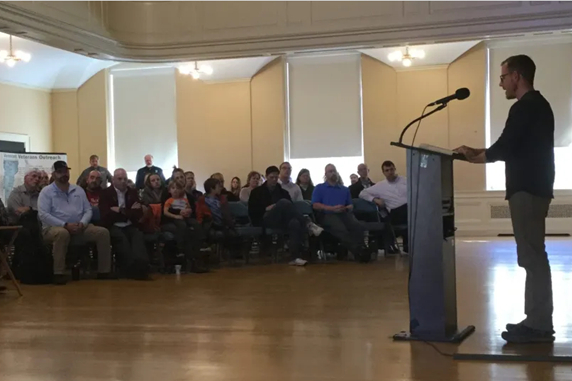 It takes courage to stand up and speak. Veterans of any era who served in any capacity are invited to stand before their community and speak for up to then minutes about what it was like to serve their country.
It also takes courage to sit down and listen. Non-veterans are encouraged to attend and listen. There will be no debate about American foreign policy, simply listening. A moderated Q&A will follow the presentations. Bring your questions and get to know your Veterans!
Registration for this event is encouraged, but not required. See more information for this event and register here.
The Town Hall will be moderated by Nic Thornbro from Vermont Veteran's Outreach Program. Coffee and snacks will be provided. Parking is free. The library is ADA accessible. Please call 802-846-4140 to request additional services.
Vets Town Halls were originated by author Sebastian Junger, with the aim of increasing communication and understanding between veterans and civilians in their communities. For more information, go to vetstownhall.org. This event is a collaboration between the library, VT Veterans Outreach Program and Vets Town Hall.
Earlier in the day, join a panel of Veterans who served in various conflicts who will share their stories on the topic, "There and Back: The Veteran's Journey"